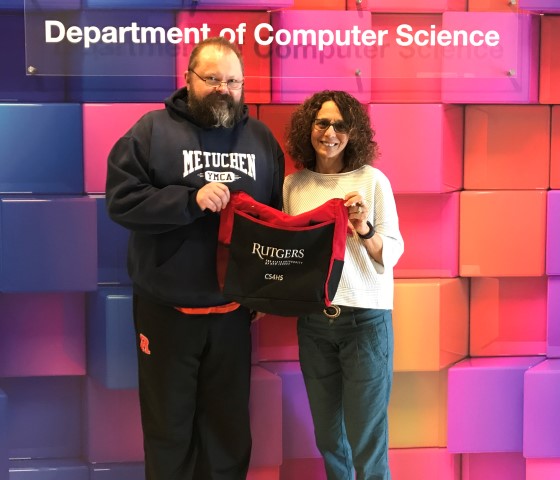 Lars Sorensen is the head of Student Computing and a Senior instructional technologist for the Computer Science department at Rutgers University. He does research on Computer Science education topics and manages the CAVE, a collaborative lab he built for the department in 2010. He is currently working towards his PhD in Educational Psychology with a research focus on Computer Science education and epistemic cognition and gaming.
Fran Trees  is Director of Undergraduate Introductory Instruction in the Computer Science Department at Rutgers, co-chair of College Board's Test Development Committee for AP CS Principles, a founding member of the Northern and Central NJ CSTA Chapters, Chapter Liaison on the CSTA Board of Directors, and a member of the Rutgers CS Outreach Group. Fran is actively involved with College Board's AP CS programs as a CS consultant and workshop leader. Her research interest is computer science education
Mayra Bachrach (mbachrac@kean.edu) is a Computer Science Lecturer at Kean University.  She previously taught middle school and high school Computer Science and Robotics teacher at Glen Ridge, NJ and coached a FIRST Robotics FTC team.  She is past-president of the North NJ Chapter of CSTA. 

Michael Cappiello ( mcappiello@frhsd.com)  has been a technology education teacher for a little over 12 years.  He currently teaches the Electronics course and the Honors Electronics II course at Howell High School in Farmingdale, NJ.  Michael attended The College of New Jersey where he graduated from the Technology Education Program and later earned his Master's Degree in Educational Technology.  Recently he became an adjunct professor at TCNJ where he is teaching Digital Electronics.  He has been involved with the Technology Student Association chapter at his school, and has assisted his students in the programming and electronics competitions.  He has led a number of workshops through NJTEEA, The College of New Jersey STEM center as well as the New Jersey Department of Education on electronics and programming.  He was recently nominated for the NJTEEA's Excellence in High School Teaching Award.

Daryl Detrick (DetrickD@warrenhills.org) is a computer science teacher at Warren Hills Regional High School and has helped lead the computer science advocacy movement in New Jersey over the last five years.   He was recognized as the CSTA 2016 National Advocate of the Year, recieved the NCWIT Educator award and is a Google CS4HS Ambassador.   He is a founding member and past president of  CSTACNJ.  Daryl graduated from Cornell University with a degree in Civil and Environmental Engineering.
Danny Klag (dklag@ets.org) is an assessment developer at Educational Testing Service. His responsibilities include the development of the AP Computer Science exams and a variety of mathematics assessments. Prior to working in assessment, he was a New York City public school mathematics teacher. He holds an undergraduate degree in mathematics and computer science from Hamilton College and a master's degree in mathematics education from Columbia University.

Ed Meyer (emeyer@bw.edu) in currently the chairman of the physics department at Baldwin Wallace University.  He received his PhD in physics from Case Western Reserve University in 1988.  Ed worked as a research scientist for Imperial Chemical Industries from 1989 through 2000.  While at ICI he quickly become the lead trouble shooter, solving problems everywhere from can-coating plants in Taiwan to automotive manufacturing facilities in Sterling Hts Michigan.  In 2000, he accepted a professorship at Baldwin Wallace College (now University) where he developed four courses in problem solving – two of which were taught in the graduate business division — and founded the Gedanken Institute for Problem Solving.  Baldwin Wallace University is the first university in the country to offer for-credit courses in problem solving.
The mission of the Gedanken Institute is to promote problem solving skills in education and in industry.  The Institute provides lectures at a wide range of community and professional venues and hosts a series of Problem Solving Institutes for intellectually curious 12-17 year olds.
Ed also provides continuing education seminars for teachers and researchers, has consulted with the state of Ohio on STEM education and has presented a TEDx talk on developing problem solving skills at the Bendix Corporation. When textbook publishing giant Springer desired to publish a book on teaching problem solving, they tapped Ed and three others leading experts in the field.  The book is titled, "Guide to Teaching Puzzle-Based Learning."  Ed has also authored or co-authored "Probably a Good Book,"  "The Gedanken Institute Book of Puzzles" and "Naked Physics"

Adam G. Newall (Adam.Newall@pembrokek12.org) has completed 9 years as a Math Applications and CS teacher and the Technology Integrator and Specialist at Pembroke Community Middle School, MA.  This is also his fifth year teaching Boostrap: Algebra, and Bootstrap: Reactive as elective classes to seventh and eighth grade students.  He has been honored to be speaker at MassCUE's fall conference, to work with the Massachusetts Department of Elementary and Secondary Education as an advisor on CS frameworks, and especially as a Bootstrap Facilitator and Master Teacher presenting the Bootstrap curriculum at professional development workshops around the country. 

Bobby Oommen (boommen@latinschool.org) is the middle school Computer Science teacher at the Latin School of Chicago. After working in Chicago Public Schools for nine years, Bobby was hired to start a brand new CS program at Latin's middle school; a challenge which included writing curriculum for discrete CS classes, as well as working with core subject teachers to integrate CS through cross-curricular projects. Last summer, Bobby worked on a team with Code.org to help write their new middle school Computer Science program, Discoveries, and is excited to facilitate the rollout of this curriculum over the next few years. Bobby received his B.S. in Information Systems from the University of Illinois, his National Board Certification in mathematics, and his M.A. in Curriculum and Instruction from the American College of Education.

Michael Preston (michael@csnyc.org) is the Executive Director of CSNYC, the New York City Foundation for Computer Science Education. CSNYC works to increase access to computer science in NYC public schools and is the city's partner in the 10-year Computer Science for All (CS4All) initiative. Prior to joining CSNYC, he designed and led digital learning initiatives at the NYC Department of Education including programs in middle and high school computer science, personalized learning, and digital literacy. At Columbia University's Center for Teaching and Learning, he led software development projects and research studies on multimedia analysis tools. He has taught courses in psychology and research methods at Teachers College, Columbia University, where he earned a Ph.D. in Cognitive Science in Education.
Carolyn Segreto (csegreto@brickschools.org) graduated from Villanova University with a degree in Computer Science.  She worked at IBM for 10 years as a Senior Programmer and Project Manager.  She has been in education for over 17 years and this is her 13th year teaching Computer Science at Brick Township High School.  She currently teaches four different Computer Science courses, two of which she designed. Her newest course, created with Lars Sorensen, is "Exploring Computer Science with Python & Gaming".  Carolyn is the founder and advisor of the BTHS Computer Club, which offers community service to senior citizens and grammar school children.  She is a member of CSTA-CNJ and was the 2015 BTHS Teacher of the Year .
Chinma Uche (chinmauche@gmail.com) teaches Mathematics and Computer Science and holds Connecticut Administrative license. Chinma is a strong advocate for #csforall.  Her many roles include serving as the president of the Connecticut chapter of CSTA, the 9-12 rep at the CSTA Board,  ECEP co-state Lead, co-PI of the Mobile CSP project, Code.org Fundamentals facilitator, member of the AP CSP Development Committee and a member of the Connecticut State Department of Education Computer Science Advisory Committee.  She was named the 2015 CREC Teacher of the Year (https://goo.gl/kXbsEl), a Woman of Innovation by the Connecticut Technology Council and a semi-finalist for the 2016 Connecticut Teacher of the Year award.